Community: Killers Rudely Out Shootin' Suckas
News
Using Hacks on the Kross Servers
I am certain that most of you know about my secondary steam account that I have. This account I like to go on the kross server from time to time. While I'm on the server I take the opportunity to watch...
Posted by -¤lζ¤- Λя©ĦÐЄĿЏЖΣ
September 08, 2009 - 04:40 PM
View Post
Party 2 Death Is Back up and Running Peeps!
Well, in light of the recent ass raping by Valve, I figured I would get the P2D server back up and running. 24/7 achievement_idle. I will keep the server password protected, to guarantee that there will be room for...
Posted by -¤lζ¤- Λя©ĦÐЄĿЏЖΣ
September 03, 2009 - 12:13 PM
View Post
Vavle Rules!
[quote author=The FragMan link=topic=1178.msg23725#msg23725 date=1251941714] So, after reading the latest TF2 blog post, I started up TF2 to check my items, and... ONOES! I've been flagged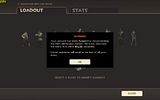 Ok, so let's...
Posted by -¤lζ¤- Λя©ĦÐЄĿЏЖΣ
September 03, 2009 - 12:11 PM
View Post
More
Screenshots and Videos