Community: Official Evolved Noobs Multi-Gaming Community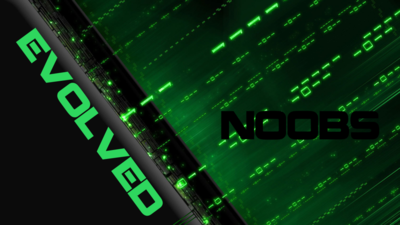 We are a Multi-Gaming Community dedicated to game evolution. Our determination will set new standards. 1, that in time is sure to be talked about for yrs 2 come. We are not:Newbs OR n00bs. However, we ALL were Noobs at 1 point(beginners at best). Now, our time is here
WE ARE EVOLVED!
Founded by The Evolved Noob on Feb 19, 2011
Out of respect of the OLD SCHOOL GAMER-When times were fun and when we lived above Social Media Distortion.
Please go to:
for Info/Rules and Official Registration. Thank You.
: 14802 : 5010456
News
Pay attention to the post below, by Side :)
Well put side, I could not have said it better. I'm sorry I have not been on as much, I have been working some crazy hrs & I'm loving it :D Soon I will be on the weekends playing once my...
Posted by Xall
May 01 - 12:03 PM
View Post
~[ #Halo & Scrims]
[b]I would like to make a statement for everyone in EN that still loves to play halo. An inspiration: ~Statement from the Halo Council on Dec 8th, 2012.
For Xall
I will be taking a short leave from everything, I am cleaning my profile out, but ill be back and I have to take care of some personal things
Posted by vortex1409 | молния
March 23 - 07:28 PM
View Post
More
Screenshots and Videos