Community: 5th Special Forces Group
Welcome to the 5th Special Forces Group!

We are a Battlefield 2 clan founded on the principles of teamwork and solid leadership. We love to teach basic and advanced tactics both for fun and for use on BF2. We are a tight nit group of friends who have been playing together for a long time. Our recruiting process is tough, but if you think you have what it takes, check us out!

If you are interested in joining, please feel free to join us on our vent and our forums! Or join us on the battlefield!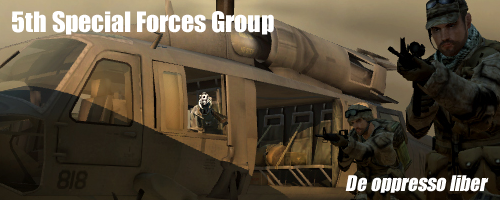 : 32 : 9974
News
Site Update!
As of this afternoon, we have decided to take our business to Enjin. We have subscribed to their services for a month. During that time, we will wait for MAD to recover so we can try to get our information back....
Posted by Col. xbearer [5th SFG]
May 24, 2011 - 03:29 PM
View Post
Website Situation
Well gentlemen. Same old story. Our provider, MAD-EMedia took a fat dump, and our site went down more than 48 hours ago. When it happened I submitted a Support Ticket to see what was up. In those...
Posted by Col. xbearer [5th SFG]
May 20, 2011 - 04:23 PM
View Post
Website Update
Gents, Stevie and I learned late this afternoon that as of March 11, our web provider Mad-EMedia lost ALL of their hard drives in a massive crash. They lost all information for all clients. That means we must...
Posted by Col. xbearer [5th SFG]
March 14, 2011 - 01:02 PM
View Post
More
Screenshots and Videos